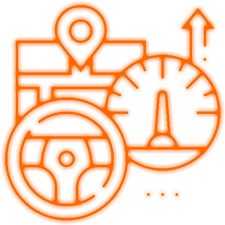 Generation D
Low-power computing with vehicle specific IoT features

ARM CPU
Select from one of our 32/64-bit ARM CPU's, up to and including the 1.5 GHz 64-bit quad core ARM Cortex-A72 processor.  You can select the CPU which best balances the processing speed vs power consumption needs of your product.

DDR4 Memory
Our computing motherboards use onboard (soldered) DDR4 memory.  The selected device can hold between 1G and 4GB of memory to suit your needs.

SSD Disk
Choose from our SSD options to hold your software and data.  The OS can boot from a separate SD Card storage device or from the SSD, for more control and customization.  Available SSD capacities range from 4GB to 1TB.

WiFi & Bluetooth Radio
An included WiFi radio and Bluetooth radio offers internal or external antenna options, and supports 2.4 GHz and 5.0 GHz IEEE 802.11ac wireless, and Bluetooth 5.0 BLE.

GPS Radio
An optional Broadcom BCM47752 chip for GPS reception is available for all computing motherboards.  The radio supports either an internal or external antenna.

Range Of I/O Ports
The platform offers a variety of I/O ports including (but limited to) serial, USB, HDMI, Network, and 40 general purpose I/O pins.  The availability and number of ports depends on the selected processing board and other options.

CAN bus Interface
Standard equipment includes three independent Microchip MCP2515 CAN controllers.  They can be used individually to monitor CAN buses or in combination to create a full node.

Case Options
You can select from a variety of cases to suit your needs.  We offer plastic cases (optionally environmentally sealed, IP67), or aluminum cases which are lightweight and offer more mounting options.  All radios are separately shielded internally.

C/C++ Library
Telium has developed extensive libraries for use with all of its telematics platforms.  The C and C++ libraries include both high-level functions (or objects) and low-level functions (or methods) to allow you to perform as much or as little customization as you wish.  The libraries are fully documented and sample applications are included.

Qt 5/C++ Libraries
Telium also includes Qt 5 (C++) libraries which take full advantage of Qt specific features (e.g. signals and slots) and whose API is consistent with the design of Qt's own libraries.

Linux Pre-Installed
The platform comes preinstalled with your preferred version of Linux.  Telium fully supports CentOS and Debian, but other Linux distributions can work equally well if you ensure the necessary prerequisite packages are installed.